While some small firms operate only in summer, others take advantage of the season to boost their revenue by diversifying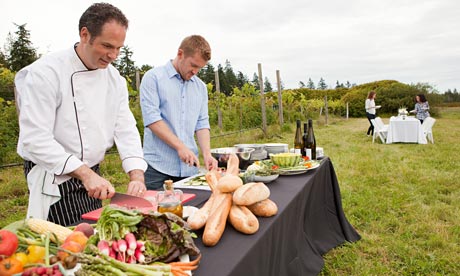 For most of the year Lyn Blake lives in Bromley and works as a private hire cab driver, but during the summer months she runs her own business, Orange Festival Foods, which feeds notoriously ravenous backstage crews at the UK's most popular music festivals, including Glastonbury, Latitude and Leeds.
"I'd never worked in catering before, I'd owned shops and was an insurance broker for a time," she recalls. "My late husband and I started Orange Festival Foods in 2009 and the first festival we did was Latitude. We heard they were looking for a new caterer and we thought we could rise to the challenge.
"Tony was a civil engineer and project manager and he said all we'd need do is work out what was required in exactly the same way as you'd approach any large project. We needed a kitchen, chefs, chairs, tables, staff, food, pots, pans and other items."
Blake's business will be operating at Latitude and Leeds this summer. At each, her business will make and serve up to 20,000 meals over five-and-a-half days, with working days usually lasting 20 hours. As well as catering and front-of-house staff, Blake must manage a team of young volunteers.
Planning begins in February, says Blake: "I need to know what numbers we're catering for, how many staff we need, as well as what my supply and transport costs will be. There's a lot of work involved and the planning has to be meticulous. We hire a production kitchen and I liaise with suppliers well in advance to order stock. All our meals are freshly cooked onsite and we cater for a wide range of dietary requirements."
Running a seasonal business does create a cashflow issue for Blake. She explained: "To cover certain expenses, I have to come up with a fair amount of cash in advance, but luckily my food suppliers grant 30 days credit, which helps."
Although a seasonal business, Orange Festival Foods generates most of Lyn's personal annual income. "Driving is really just something I do to keep busy in winter," she says.
So what is the key to running a successful seasonal business?: "It takes careful planning," says Lyn. "You must be well organised, prepared to work hard and, in my line of business, you need good project and people management skills.
"You also have to make sure you comply fully with legislation and health and safety rules, especially when running a food business. When I started I contacted my local environmental health service and I followed their recommendations to the letter. Just because you're a seasonal business, doesn't mean you can ignore the rules. We operate to the highest food hygiene standards, which is quite a challenge when you're cooking in a field in all types of weather."
The summer enables many businesses to diversify and generate some much-needed additional cash. Take husband and wife team Arlene Caddow and Mark Kendall. Together they own and manage Fat Fowl, a busy licensed cafe by day and popular restaurant at night in Bradford on Avon, as well as the adjacent Roost tapas bar and Le Petit Coq deli.
They take advantage of the summer season by catering for weddings, some of which they host in the grounds of their home on the outskirts of town. "We do wedding parties at the restaurant and catering at other venues, but we've been hosting weddings in a marquee in our garden since the recession," Arlene explains. "It can accommodate 250 guests or more. We offer full facilities in a lovely environment and couples can save money by supplying their own booze."
Bookings come from word of mouth or from couples who have eaten in the restaurant. Taking deposits and part-payments in advance helps to alleviate cashflow concerns. Wedding-related revenue helps to reduce Arlene and Mark's reliance on their deli and restaurant businesses, takings from which are difficult to anticipate each week.
Although the couple benefit from being able to use existing food suppliers, they must hire in the marquee and crockery. Arlene admits that hosting weddings requires a lot of additional effort, which is why businesses should think through the full implications before they diversify. "For an average wedding, I probably have to do 10 or more meetings, write or reply to 50 emails, as well as make and answer numerous phone calls," she says.
"There is a lot of preparation work required and planning has to be precise. We all have to work very hard on the day, but our weddings have always been very successful and they're a welcome additional source of income. Weddings make a nice change during the summer, for ourselves and our staff, who really look forward to them. Variety is important in business."