Properties deals are ripe for the picking, says Angela Dennis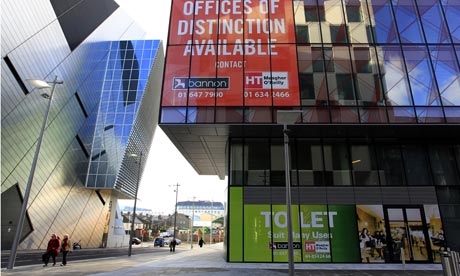 The news over the past few years about commercial property has often involved doom and gloom, with premises becoming vacant and some companies being tipped into insolvency by their property commitments. But a lot of problems were due to the fact property had been acquired years ago on inflexible terms, such as rents that were too high, or having to pay three months rent in advance.
The commercial property market has evolved considerably over recent years, particularly with the pressure resulting from the tough economic times. There are now deals on offer which could make it worthwhile businesses dipping their toe back into property before things change again. I believe there is unlikely to be a better time to do deals and, in some cases, property can be just the launch pad a business needs to move to the next level.
While trends such as internet shopping and remote working are on the up, they do not replace the need for physical places for people to shop, or showrooms and offices for working, because people still crave real experiences and face-to-face interaction. Therefore, property is still a worthwhile investment for many businesses and often a necessity for successful expansion for SMEs.
Market standard lease terms have changed a lot since those which were common around 10 years ago. At that time, terms were leases more than 10 years long. And 10 years was seen as short, as leases had previously often been over 21 years with no right for a tenant to end the lease early. Rent did not go down. Instead, it could go up every five years and service charges payable by tenants could be enormous.
There were calls for laws to regulate the terms allowed in leases. The property market has tried to stave off such laws, saying there is self-regulation with market pressures. So commercial property professionals and industry bodies representing both owners (landlords) and occupiers (tenants) have introduced a code of good practice. This is a good place to look if you want to know more about lease terms. The code and the market have made a difference to lease terms, which are now more flexible.
What's more, there are now properties where deals are ripe for the picking. There is an oversupply of some types of property, such as retail units that are not in prime locations or offices in need of modernisation. In these cases, landlords can be more flexible on the terms agreed. Deals can often be done for smaller spaces in less high-profile or popular locations as overall demand is lower and since SMEs initial property requirements are more likely to be modest, this means their target property may well be one where a good deal can be done.
An empty property costs a landlord money due to the business rates and maintenance – there are instances where a property owner will let someone use the building on a short-term basis for nothing more than those costs with an opportunity to stay there longer if things work out. They might even offer it for free until the time is right for the owner to develop the land so that it does not lie empty and in the doldrums in the meantime. Property owners are more innovative, and pop-up shops and serviced offices such as easyOffice are all the rage. These are usually a more flexible way to 'rent' property and can be taken on a very short-term basis. So, if it does not work out for the business, the SME is not stuck with a long-term commitment.
But how do you find these opportunities? It can be time and cost-effective to pay a surveyor to find the right property for you. The internet is also awash with information. Sometimes though it is who you know – talk to friends, family and contacts and they may know someone who may know somewhere that is right for you. Once you find somewhere there are standard form documents available that can be signed to keep costs of documenting the agreement down. Such standard documents need carefully checking as they may need amending to ensure that the terms you have worked hard to secure are included and there is not a cost in the long term due to shortcuts now
In short, deals can be now done for property that will be an asset for your business.
Angela Dennis is a commercial property specialist from Russell-Cooke LLP solicitors
Via The Guardian