A couple who run their own businesses from home while bringing up a child share their three tips for making it work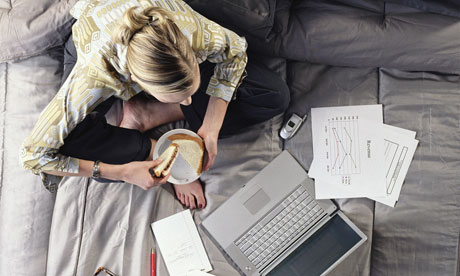 Over the past 10 years my husband and I have successfully run our separate businesses from home. My company WorkshopsWork Ltd designs and delivers bespoke training and development solutions to a wide range of commercial and public sector clients. Hubby provides carpet and flooring to the domestic and commercial sectors.
As a married couple with one child, we've learned how to make working from home work for us and our family. But it's not always easy and although on paper running your businesses from home makes sense, it can come at a personal cost. My daughter has never forgiven me for going away on her birthday to qualify as a Myers-Briggs Type Indicator practitioner and holidays have occasionally been interrupted with calls from tenants who have locked themselves out – as we let properties as well.
The good thing is that home working is a low-cost option for people thinking of starting up a business. If your business is service-led then often you only need admin office space to operate. Why pay to rent an office somewhere that you then have to commute to, when you can work from your home office or even your sofa? Of course, some businesses will require premises – a shop window or a high street presence – may be vital for them. However, if you want to test the waters to see whether you can make it in business before you sign up to a long-term lease then my advice is to start small. With few overheads, coffee on tap and the reassurance that only you use the loo, it has its perks. But working from home demands discipline and ground rules. Here are some that we've developed.
Define flexible work and life boundaries
Like many other couples we juggle and share parenting and business responsibilities. Having a home office means it is sometimes hard to know when to shut the door and switch off the PC. When you do what you love it can be so easy to let it take over your whole life, so factoring in downtime is essential. The truth is that my husband is much better at this than me, and I often find myself cooking dinner, creating a presentation and doing homework all at the same time.
I have now learned to reset my boundaries. What works for me is creating a timed to-do list, when I work on only one thing at a time for a set period. It helps me stay focused and enables me to get much more done.
Get covered
Many small business owners forget that working from home means your home is the window of your business. My advice is make sure you get adequate business insurance and let your home insurer know you use the home for business purposes. In our case we only use it for admin purposes, however, if you have a workshop or employees working from your home, then you need to make sure your policy is correct for your needs.
If you have customers visiting then make sure the place is tidy and check the loos before they arrive. I once visited another home business and was aghast at their toilet facilities. It left a lasting and very poor impression, I can tell you.
Be IT savvy and create systems
Running your business from home often means you are the one who does the bookkeeping or sorts out the IT. It pays to think about how you will keep trading should the worst occur
What if you have IT problems, for example? Can you fix them? Perhaps you need external server backup to protect your systems should things go wrong. I am lucky to have a partner who is IT savvy, but that also has its dangers. I quickly realised I was becoming dependant on him to sort out my IT and server issues. This meant that my own knowledge was becoming outdated and, since using social media is key to my marketing strategy, I need to keep up with it myself. However, after learning how to tweet, operate Facebook and use LinkedIn, I spend even more time in my office or on my mobile. So I guess it's back to my first tip regarding defining your boundaries. Luckily, as a home-based business owner, I can head off for a mid-morning walk to think about the right way to do that.
Caroline Rust is founder of Workshops Work Ltd, a bespoke training and development consultancy.
Via Guardian Small Business Network